World Art Nouveau Day 2019
"On June 10th 2019, the Réseau Art Nouveau Network will celebrate the Art Nouveau World Art Day and you are all warmly invited to take part to this international event, open to all!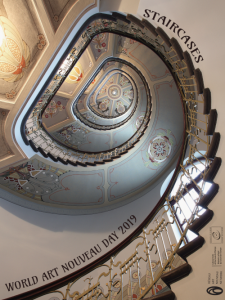 This seventh time will be dedicated to the theme Art Nouveau Staircases. Absolute backbones of the building, these spaces of circulation, sometimes intended to diffuse natural light in the interiors, did not escape the creative impetus of Art Nouveau. From the start of a staircase to the banister, the Art Nouveau patterns and movements spread out in various forms in order to adapt to its users, owners and housekeepers. The 2019 edition of the World Art Nouveau Day will highlight these spaces, that are sometimes majestic and imposing, sometimes discreet and narrow but always essential.
Introduce us the most outstanding staircases, according to you, of the Art Nouveau movement by participating in our photo contest! Send us your most beautiful photographs and most beautiful drawing of your kids showing an Art Nouveau staircase before 3 June 2019 at midnight, with your completed entry form enclosed at info@artnouveau-net.eu." For more information and to download the entry form, please see here.
Photo credit: RANN.